International Conference "Russia and ASEAN in the Asia-Pacific Region: Dynamics of Cooperation, Regional Processes and Global Context"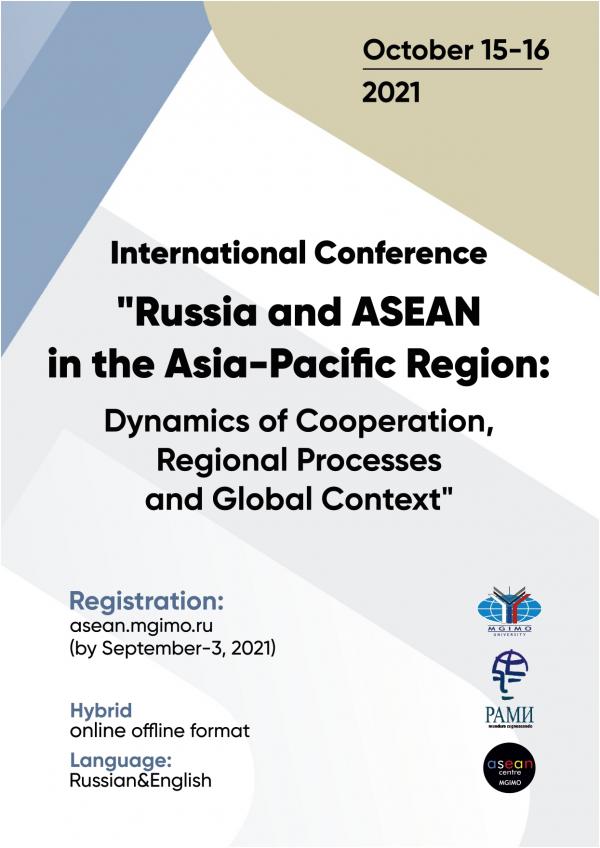 11.08.2021
On October 15-16, 2021 the international conference "Russia and ASEAN in Asia-Pacific Region: Dynamic of Cooperation, Regional Processes and the Global Context" dedicated to the 25th Anniversary of Russia-ASEAN Dialogue Partnership and the 30th Anniversary of Their Bilateral Relations will be held. It will take place within the framework of the 13th Convention of the Russian International Studies Association (RISA).
The conference aims at discussing Russia-ASEAN cooperation and related topics. It will also focus on analyzing dynamic changes in the Southeast Asia region, and address political and economic trends of individual ASEAN members.
Working languages: Russian and English.
The conference will be held in a hybrid format.
To participate in the conference as an audience member, please fill in the registration form. The registration for the speakers is now closed.
Should any additional questions arise please contact the conference organizing committee:
email: asean@inno.mgimo.ru, tel. +7 495 234-83-61.
Coordinators: Ms. Valeria Vershinina, Mr. Nikita Kuklin.