Russia and ASEAN in the Asia-Pacific Region: Dynamics of Cooperation, Regional Processes and Global Context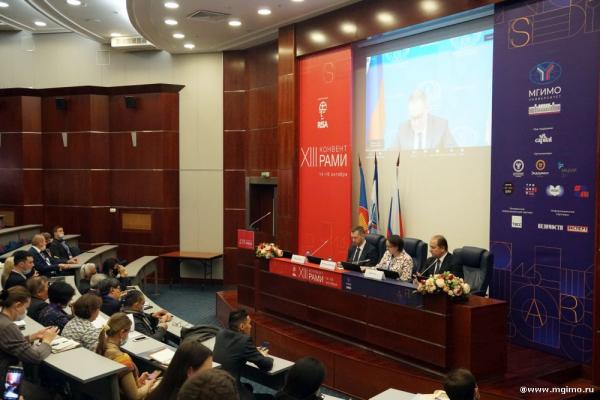 15.10.2021
October 15th, the international applied research conference "Russia and ASEAN in the Asia-Pacific Region: Dynamics of Cooperation, Regional Processes and Global Context" started within the framework of the 13th Russian International Studies Association (RISA) Convention to celebrate the 25th anniversary of Russia-ASEAN Dialogue Partnership and the 30th anniversary of their bilateral relations.
The Conference was inaugurated by the Deputy Minister of Foreign Affairs of Russia Igor Morgulov, who stressed that the development of cooperation with ASEAN has always been a priority of Russia in the Asia-Pacific, promoting stability and steady development of the region. In three decades, a flexible system of dialogue mechanisms has been created and continues to broaden, serving as a basis for further cooperation in security, information and communication technologies, and healthcare. The ASEAN Center in MGIMO University has made an important contribution, playing a significant role in cooperation with ASEAN countries on the second track.
The participants of the Conference were welcomed by the Minister for Foreign Affairs of the Republic of Indonesia Marty Natalegawa (2009–2014), who noted the publication of his book "Does ASEAN Matters" in Russian, which is a new joint project with the MGIMO ASEAN Center. The book studies the history of the Association, its contribution to the building of 'strategic trust' in the South-East Asia, explaining how ASEAN secured 'the central role' in many organizations of cooperation in the Asia-Pacific.
The guests were also welcomed by the Ambassador Extraordinary and Plenipotentiary of Vietnam to Russia Dang Minh Khoi, the Minister of Education, Youth and Sports of Cambodia Hang Chuon Naron, the Ambassador of Russia to ASEAN Alexander Ivanov, all of whom are MGIMO graduates. The Chairman of the Russia-ASEAN Business Council Ivan Polyakov shared his vision of the development of trade and economic as well as investment cooperation.
The MGIMO Vice-Rector for Science and Research Andrey Baykov told the audience that the Conference would be aimed at discussing relevant issues of bilateral cooperation between Russia and ASEAN, assessing the current state of the dialogue partnership in the context of the pandemic, analyzing the dynamics of the South-East Asia development, as well as identifying major trends in political and economic development of individual members of the Association. A special mention deserve the participants of the Conference, who are young researchers from Moscow, Saint-Petersburg, Tomsk, Tyumen, Vladivostok, Asian and European countries.
The event concluded with a special address by the Secretary-General of ASEAN Lim Jock Hoi. The plenary session was moderated by the Acting Director of the ASEAN Center in MGIMO Ekaterina Koldunova.
The Conference will last for two days. You can find the program here.