XIII RISA Convention: Sustainable Development — a Platform for a Broad International Dialogue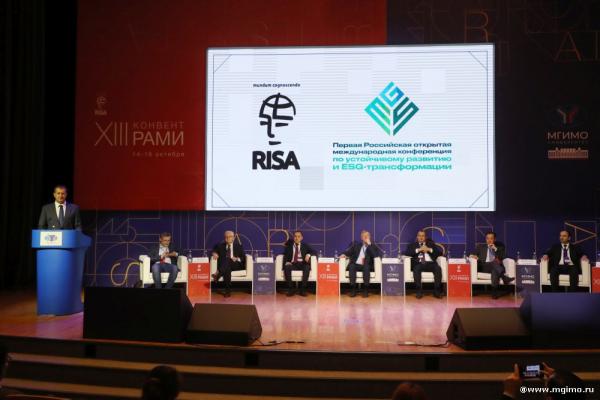 14.10.2021
October 14th, the 13th Russian International Studies Association (RISA) Convention was launched at MGIMO. The plenary session entitled "Sustainable Development — a Platform for a Broad International Dialogue" was opened by the Vice-Rector for Strategic Development, Chief of the Rector's Office and RISA Executive Director Artem Malgin.
Artem Malgin presented the greetings from the RISA President and MGIMO Rector Anatoly Torkunov and gave the floor to the first speaker of the session – the Special Representative of the Russian President for Relations with International Organizations to Achieve Sustainable Development Goals Anatoly Chubais. Mr Chubais stressed that today ESG transformation and sustainable development became a kind of religion of the 21st century. The humanity realized that climate change is the number one threat, determining the survival of people. Anatoly Chubais recalled an important event that happened a day earlier: at the Russian Energy Week, President Vladimir Putin mentioned that our country aimed to achieving carbon neutrality by 2060.
Anatoly Malgin noted that the participants of the Convention were welcomed by the Russian Foreign Minister Sergey Lavrov. Among other things, his address said that "sustainable development is the best way to ensure peace and prevent conflicts." The welcome address was also sent by the ASEAN Secretary General Lim Jock Hoi.
The session gathered high-level speakers, who presented their reports on this extremely relevant issue. Among the plenary session speakers were the Director-General of the WTO (2005–2013) Pascal Lamy, the Deputy Chairman of the National Assembly of Azerbaijan Adil Aliyev, the Member of the Board – Minister in charge of Energy and Infrastructure of the Eurasian Economic Commission Temirbek Asanbekov, the Governor of Kamchatka Krai Vladimir Solodov, the Dean of the HSE Faculty of Social Sciences and one of the RISA founders Andrei Melville, the member of the State Great Khural, Minister of Environment and Tourism (2012) and Foreign Minister of Mongolia (2017–2020), MGIMO graduate Damdiny Tsogtbaatar, the Rector of Academy of Public Administration under the President of the Republic of Tajikistan Abdukhalil Gafurzoda, the General Director of the Russian Public Opinion Research Center (VCIOM) Valery Fedorov.
The Head of the French-Russian Trianon Dialogue Secretariat Maria Ryabova co-moderated the plenary session.
The 13th RISA Convention is organized with the support of the Priority–2030 strategic academic leadership program. On the sidelines of the Convention, special events of several multilateral and bilateral dialogue platforms as well as events of partner research and educational institutions will be held.